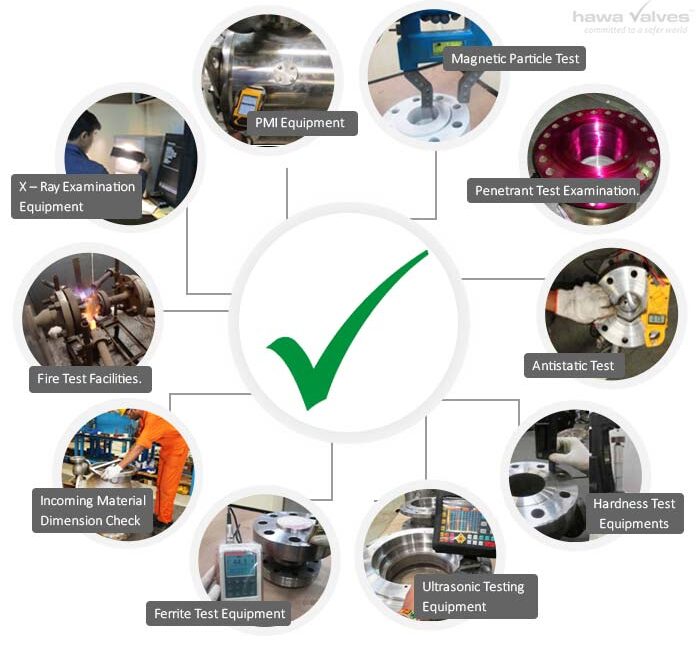 In order to assure that Hawa Valves' products comply with international quality standards, a complete range of in-house equipment is kept for monitoring control. Some of this equipment includes:
X–Ray Examination Equipment: Hawa Valves has its own in-house facility for evaluation of radiographic (RT) films of casting 0.100" up to 2 ½" wall thicknesses to verify the soundness of the casting raw material. Qualified personnel (ASNT Level II or higher) are employed for interpreting & evaluating the Radiographic Films, and a complete range of Comparators are kept in the library for reference.
PMI Equipment: Since we are constantly working with high alloys and multiple materials, Positive Material Identification (PMI) Equipment provides a fast, easy and completely non-destructive chemical analysis method for every metal component, alloy component reliability, traceability, and segregation during receipt of raw material, manufacturing and final assembly of valve components. Qualified personnel (ASNT Level II) are employed for inspection.
Magnetic Particle Test (MPI): On a random basis for standard products or when a Customer requests MT Certification, Hawa Valves has Magnetic Particle Test Equipment to perform on ferromagnetic materials. Again, qualified personnel (ASNT Level II) are employed.
Penetrate Test Examination (PT): Hawa Valves has the personnel and materials to perform PT examination by solvent removable or water washable techniques. All NDT personnel are certified to ASNT Level II or higher.
Antistatic Test: This test exposes electrical conductivity, and is achieved by fitting a positive contact device between the Stem, Ball and Bonnet.
Hardness Test Equipment: So important to establish suitability for NACE materials, Hawa Valves uses suitable hardness testing equipment for both, lab and shop tests, such as Rockwell B, C, Brinell, to ensure compliance with specifications.
Ultrasonic Testing Equipment. Using ultrasonic techniques, Hawa Valves detects sub surface flaws in materials and evaluates castings and forgings that cannot be radiographed. In addition, we utilize these techniques to measure the wall thickness of castings and forgings.
Ferrite Content Test Equipment: Ferrite Content is an important consideration in critical and sensitive raw materials such as Duplex Stainless Steels, as it affects corrosion resistance and susceptibility to cracking. Hawa valves has in-house instrument facility for ferrite content measurement.
Duplex steel is now used increasingly in the chemical and petrochemical industries. If the ferrite content is too low, material is susceptible to hot-cracking, and if the ferrite content is too high, the toughness, ductility as well as the corrosion resistance of the steel are reduced. For duplex steel, a ferrite deficit in the area results in stress corrosion cracking and reduction in strength. Duplex Stainless Steels materials are checked for Ferrite Content before taking the material into further process.
Incoming Material Dimension Check: Using the proper tools, a Hawa Valves QC Inspector inspects each and every incoming material (castings, forgings, fasteners etc.) to ensures our ability to trace measurements, dimensions, wall thickness check, control products, and comply with the applicable international standards and customer requirements.
Fire Test Facilities: Hawa Valves has an advanced facility to perform fire test of valves in accordance with the relevant API or ISO Standards. The test exposes the valve to a fire flame at 761°C to 980°C (1400°F to 1800°F) to verify the sealing performance of the valve when exposed to fire in an unforeseen circumstance.